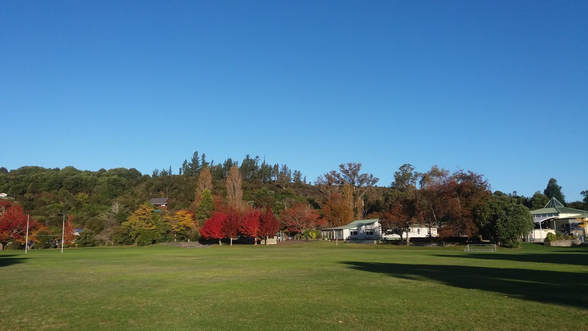 CAS Property
Perched at the top of Lewis Street, Collingwood Area School is set in beautiful grounds complete with a sea view. The small town of Collingwood is at the end of Highway 60 and is an eco-tourist destination close to the attractions of Farewell Spit, the Heaphy Track, Kahurangi National Park, fishing and safe beaches.
This beautiful place provides a stimulating backdrop for learning and every type of outdoor education. While we may not have the most modern of buildings, our school facilities boast a swimming pool, gym, an auditorium and library, full workshop facilities, a huge sports field, an adventure playground and lots and lots of fresh air! At Collingwood Area School we garden and grow produce, we climb trees, we play with sticks and in mud, we zoom around on our bicycles and scooters, and play heaps of team games. In short, we love to be outdoors and enjoy all that our wonderful school grounds have to offer.
​
Creating a happy environment for children and teenagers is everyone's business and our Property Team are at the centre of this work, keeping our children safe and ensuring our kura looks lovely and runs smoothly.
Over 2022 / 2023 our kura will be undergoing an extensive rebuild. Please go to our home page and click on the Fly Through to see the exciting changes ahead.
Thanks Craig and Carolyn!
Hire of Rooms
Finding a large or suitable venue locally can be tricky and CAS is always delighted to support our community event, groups and clubs. Mindful that we must follow correct procedures, we have an agreement which is part of the process in booking our kura as a venue. It goes without saying that we have very high expectations around Health and Safety and must ensure that any agreement does not disrupt the day to day running of our School.
​If you would like to make a booking to hire our facilities, please see the lease agreement attached and get in touch directly with our Admin Team on: admin@collingwood.school.nz

CAS Casual Lease Agreement
Download File