Golden Bay, New Zealand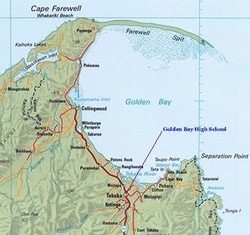 Golden Bay is in the North West corner of the top of the South Island of New Zealand/Aotearoa. It is  is a predominantly coastal area which is bordered by two national parks – the Abel Tasman National Park and the Kahurangi National Park.
Golden Bay has a population of around 5000 people, however, over the Summer months from November to March this can more than triple with an influx of visitors from all over the world. Golden Bay is loved for its natural beauty, its outdoor opportunities with safe swimming, rock climbing, fishing, kayaking and has a strong arts and crafts community.
Income is derived mainly from agriculture (dairy farming, horticulture and dry stock). Fishing, tourism, retailing and arts and crafts are other sources of livelihood. 27% of those in employment are self-employed (twice the regional average) but professional, technical and managerial groups have a small representation. There is a wide range of incomes, with some families suffering hardship and a relatively high proportion of the population receiving a social welfare benefit of some description.
Golden Bay is a trusting, secure, low-crime community, and young people are able to cycle or walk to activities without fear. Golden Bay has an excellent climate, and the close proximity of the mountains and sea makes it an ideal base for many sorts of aquatic and mountain activities. Sailing, kayaking, diving, rock climbing, tramping and caving, as well as the use of the environment as a classroom are all features of the school in the community.
There are cultural and sporting clubs in the community including musical and drama groups. There are, however, few organised entertainment facilities for young people. Golden Bay is separated from the rest of Tasman district by a winding road over the Takaka Hill. This isolation limits exposure of our young people to career options and creates a big leap from school to tertiary level education. It can also limit access to extension programmes both academically and sporting. Talented students in sport and music, although well supported by the community, often travel significant distances to participate fully.
​Golden Bay also has a wide variety of Arts and Crafts, galleries and shops, theatre, museum, restaurants, library and its own newspaper. Takaka is known for its alternative lifestyle, craftspeople, golden sand beaches and laid back country lifestyle.
More information about Golden Bay on www.goldenbaynz.co.nz

To reach Golden Bay from Nelson head to Richmond and follow State Highway 60 to Motueka.  Continue through Motueka on SH60 and over the Takaka Hill (791 metres high) to Takaka township.To get to Collingwood you drive a further 15 km on State Highway 60. Collingwood Area School is situated up high on a hill looking over the Whakamarama Ranges. Collingwood is approximately 2 hours drive from Nelson Airport.  Takaka does have it's own airport with flights available to and from Wellington.